Kerrville Personal Injury Attorney
Serving the Community for Five Generations
When you have suffered a personal injury, you deserve dedicated representation aimed at securing your best outcome. Personal injuries are expensive between medical bills, lost wages, recovery time, and emotional stress. Financial cost can quickly increase.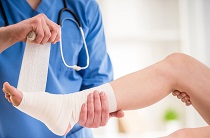 When someone else has caused your accident, you should not be responsible for paying for your recovery. The Law Office of Patrick O'Fiel, P.C. has a standing reputation for fighting for the injured.
Our personal injury law firm handles all types of cases, including:
ATV Accidents
Construction Accidents
Hunting Accidents
Motorcycle Accidents
Pedestrian Accidents
Premises Liability
Slip and Falls
Workplace Accidents
Wrongful death
In many of these cases, insurance companies try and shift the blame in order to avoid responsibility. Under Texas law, if the injured is deemed 51% or more at fault, you are unable to recover compensation.
The total amount that can be recovered if the injured is under 50% responsible is reduced by the percentage the injured is at fault. Our firm aggressively fights to show that you deserve the maximum amount of compensation for your injuries.
Ready to take action with a personal injury attorney that cares? Contact us at (830) 331-5977 to speak with our law firm in a consultation.
Record of Success Serving Clients in Texas
One of the most important aspects of a personal injury case is determining the exact cost of the financial impact of your injuries. We take into account the various ways that your quality of life has been compromised and take care to explore avenues to address your losses.
Clients in the Kerrville area choose The Law Office of Patrick O'Fiel because:
We are intimately familiar with the methods and tactics used by insurance companies
We have a network of accident investigators and experts to consult your case
We bring over 15 years of legal representation to the community
You receive dedicated service and personalized attention from our law firm
Ready to work with an experienced Kerrville, TX personal injury lawyer that cares? Contact us at (830) 331-5977 now.